Buying and Maintaining Properties Have Never Been Easier
Ibiza is home to some of the most beautiful properties. The Mediterranean-style architecture overlooking the turquoise-colored waters makes for a breathtaking scene. It's the same villas, houses, and apartments that persuade visitors to make the White Island their permanent residence. If you also find yourself enchanted by their charm, HOY HOY IBIZA is the place to be. We're real estate agents and property managers known for offering outstanding services. Whether you're looking to buy a property or already have one and need help maintaining it, nothing is beyond our expertise.
And we don't just stop there – HOY HOY IBIZA is also a platform where you can connect with any service provider you need. From body treatments to car rentals and private chefs to summer camps, it'd be like you've hit the jackpot. What's more, if you run a business and would like to list it on our website, that's possible too. Simply contact our representatives, provide details, and get your business listed. All in all, we may be one company, but we do the work of a hundred.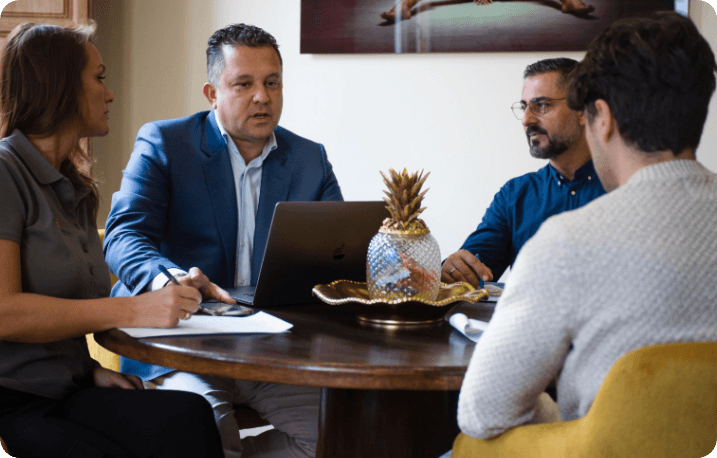 Our History
Founded in 2020 by Johnny Melten, HOY HOY IBIZA opened in the heart of Ibiza Town next to Vara del Rey.
We specialize in connecting local and international service providers with customers looking for professionals on the island. Our main goal as a third party is to establish the connection, either B2C or B2B, and ensure a win-win situation. We expect a high level of quality from our partners to make clients happy with the services.
After three years of development on our platform and allied website, we have many services online. Our complete operational front and backend of the platform is fully automized, so we had more time to do what we're genuinely passionate about.
With a growing network and client database, we collaborate with professionals and help international clients find their dream homes In Ibiza.
HOY HOY IBIZA Real Estate provides a professional, personalized service making dreams come through. Varinia Melten started with property management in 2020, helping owners take care of their dream homes. Doing the day-to-day property management work for homeowners living abroad is satisfying task, especially if that task comes along with renting the villa, refurbishing, styling, and redecorating.
Since 2023, after receiving so many questions if we could help find a nice villa for friends or business relations, we decided to open the doors to Real Estate. With a team of professionals, we work hard to make that dream come true.